VersaTune | Engineered Composite Fiberglass Panel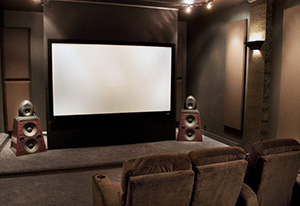 Creates balanced acoustics
Excellent broad range absorption
Controls lower frequency reverberation
Impact resistant
The VersaTune's engineered composite core creates a revolutionary acoustical wall panel that absorbs lower frequency acoustic energy more effectively than traditional panels. This is done without adding thickness or excessive cost. VersaTune improves the listening quality in the space by eliminating excessive bass reverberation. Through new manufacturing techniques, Kinetics Noise Control is able to boost the absorption coefficient in the 100 to 250 Hz 1/3 octave bands to an average 0.75. This is approximately 50% more low frequency absorption than standard panels.
The VersaTune panel is an engineered composite fiberglass panel. The VersaTune is identical in appearance to the popular High Impact HardSide so the designer can intermix panels on the same wall. The edges are chemically hardened for durability. Fabric is stretched over the panel, wrapped and bonded around the edges for a crisp, finished look.
Design for panel sizes up to a maximum 4 ft. x 10 ft. or custom shaped panels with angled or contoured perimeter cuts.
Description
A low frequency tuned fiberglass acoustical wall panel wrapped in a wide selection of fabrics. Available in a variety of edge treatments. Engineered sound control with thicknesses from 1-1/8 to 4-1/8 inches and sizes up to 4 ft. x 10 ft.
Composition
Engineered composite core
Chemically hardened edges
Fabric faced over 500 acoustical fabric choices, or factory-approved customer-selected material
Acoustical Performance, 2-1/8" Thick VersaTune-30
Sound Absorption per ASTM C-423. Type A Mounting. Frequency, Hz
| 125 | 160 | 200 | 250 | 315 | 400 | 500 | 630 | 800 | 1000 | 1250 | 1600 | 2000 | 2500 | 3150 | 4000 | 5000 |
| --- | --- | --- | --- | --- | --- | --- | --- | --- | --- | --- | --- | --- | --- | --- | --- | --- |
| 0.78 | 0.75 | 0.75 | 0.78 | 0.97 | 0.97 | 0.86 | 0.84 | 0.82 | 0.79 | 0.78 | 0.77 | 0.76 | 0.76 | 0.75 | 0.77 | 0.78 |
Applications
Interior surfaces where increased low frequency acoustical performance and more balanced sound absorption is required
Home Theatres
Auditoriums
Music Rehearsal Spaces
Media Rooms
Multi-Purpose Rooms
Churches
Recording Studios
Pro Theatres
Mounting
HardSide Impaling Clips with Adhesive
Rotofast Clips
Z-Clips - movable
Velcro - movable
Edge Options
Video
Resources
Installation Guidelines