TAD (Tuned Absorber/Diffuser) Panel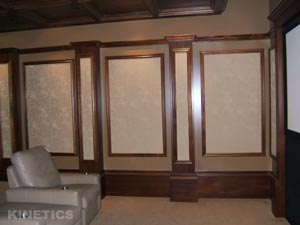 Our TAD Panel combines superior acoustical characteristics and a choice of fabric to give you the best design solution for areas where more balanced sound absorption and high frequency diffusion are desirable.
Place the Tuned Absorber/Diffuser where low and mid-frequency absorption is desired in conjunction with increasing reflectivity and diffusion in higher frequencies. The outstanding acoustical performance of this panel is the result of the assembly of a sound absorptive fibrous core covered with a variable impedance laminate. Openings in the laminate are sized and spaced to optimize the absorption in lower frequencies while creating random mid and high frequency reflective surfaces between openings (variable impedance). A design program is utilized to acoustically optimize the hole pattern in the laminate while maintaining the desired overall open versus reflective area in the panel surface. For increased low frequency sound absorption, a thicker fibrous core (2 to 4 inches) can be specified. For increased high frequency absorption, the hole size can be changed to 5/8 inch diameter versus the standard 1/2 inch opening.
Description
A versatile absorber/diffuser panel wrapped in a wide selection of fabrics or vinyls. Available with hardened shaped edges.
Engineered to control room acoustics with thicknesses from 1 to 4 inches and sizes up to 4 ft. x 8 ft.
Standard sizes are 2 ft. x 2 ft., 2 ft. x 4 ft., 4 ft. x 4 ft,, 4 ft. x 6 ft. and 4 ft x 8 ft..
Composition
6-7 PCF density fiberglass core
Chemically hardened edges
Perforated laminate face with randomized pattern of 1/2 inch diameter holes
Fabric faced with over 500 acoustical fabric choices, or factory-approved customer-selected material
Acoustical Performance
1-1/8" panel thickness. Panel wrapped in woven polyester fabric.
| | | | |
| --- | --- | --- | --- |
| 1/3 Octave Center, Freq (Hz) | 1-1/8" Thick Absorption Coefficient per ASTM C423 | 2-1/8" Thick Absorption Coefficient per ASTM C423 | 2-1/8" Thick Scattering Coefficient per ISO 17497-1 |
| 100 | 0.01 | 0.39 | 0.00 |
| 125 | 0.10 | 0.51 | 0.00 |
| 160 | 0.18 | 0.59 | 0.00 |
| 200 | 0.25 | 0.80 | 0.00 |
| 250 | 0.37 | 0.91 | 0.02 |
| 315 | 0.61 | 1.08 | 0.00 |
| 400 | 0.79 | 1.19 | 0.00 |
| 500 | 0.93 | 1.13 | 0.00 |
| 630 | 1.05 | 1.08 | 0.00 |
| 800 | 1.09 | 0.98 | 0.11 |
| 1000 | 1.08 | 0.88 | 0.12 |
| 1250 | 0.92 | 0.75 | 0.06 |
| 1600 | 0.83 | 0.64 | 0.07 |
| 2000 | 0.77 | 0.59 | 0.02 |
| 2500 | 0.65 | 0.55 | 0.10 |
| 3150 | 0.57 | 0.48 | 0.11 |
| 4000 | 0.53 | 0.46 | 0.18 |
| 5000 | 0.47 | 0.43 | 0.17 |
Applications
Interior surfaces where superior acoustical performance is required
Home Theatres
Conference Rooms
Schools/Classrooms
Auditoriums
Media Rooms
Multi-Purpose Rooms
Churches
Office Spaces
Reception Areas
Pro Theatres
Edge Options
Mounting
HardSide Impaling Clips with Adhesive
Rotofast Clips
Z-Clips - movable
Velcro - movable