Enjoy the wonder of a celestial sky along with outstanding acoustical performance.
KINETICS, the company that knows acoustics, is proud to announce Starcoustix™ – the first family of fiber-optic ceilings.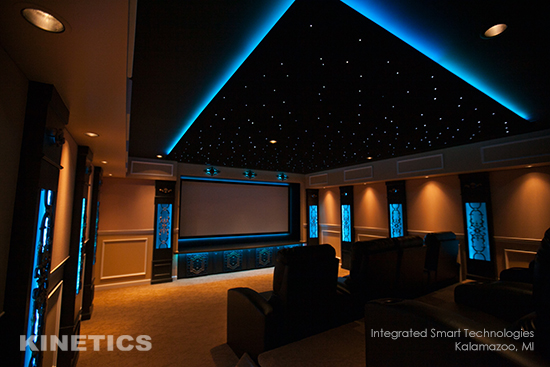 Starcoustix PX Prefabricated Fiber-Optic Acoustical Panels
For the best in beauty, acoustical performance and convenience
Prepackaged, prefabricated standard acoustical panels with fiber-optic stars
Ships ready to install
Reduces sound reflections by adding absorption to the ceiling
Fast delivery and cost-effective installation
Easy connectivity with LED technology
Low power consumption
Each panel has a built-in star engine and can be daisy-chained with up to 133 panels on a single outlet
Available in 1" and 2" thicknesses and four standard sizes
Custom sizes also available
Starcoustix SX Customized Acoustical Systems using KINETICS Stretch
TRAK

™

Deliver top-of-the-line acoustical performance and customized designs, featuring KINETICS™ StretchTRAK custom wall and ceiling acoustical system.
Greatest flexibility for acoustical design and interior décor
Invisibly integrates KINETICS specialty sound absorbers and diffusers
Site-built systems by factory-trained installers, compatible with any complex ceiling design
Add night-sky, shooting stars, and constellation images for an "out-of-this world" experience
A versatile acoustical solution that uses KINETICS TAD, VersaTune, HighTones, HighTones2, Stealth, and/or MidTones for an acoustically tuned ceiling design.
Starcoustix GX Grid Ceiling Fiber-Optic Acoustical Panels
Turn your grid ceiling into a thing of beauty – easily and economically
Standard sizes for lay-in grid ceilings
Economical
Easy installation
Easy connectivity with LED technology and low power consumption
Fast and convenient delivery in six-panel master-packs
Available in 2' x 2' and 2' x 4' sizes