Customized Acoustical Panels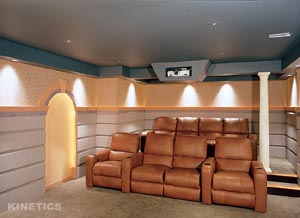 Kinetics' manufactures acoustical panels to meet your coverage needs. You can customize panel sizes, thickness and edge treatments for placement anywhere in your room. See our Specialized Acoustical Products for high-performance panel options for optimized acoustical treatment.
Kinetics has manufactured customized panels at all price and performance levels - from basic acoustical panels on selected walls to uniquely-crafted panels that meet special design and acoustical requirements.