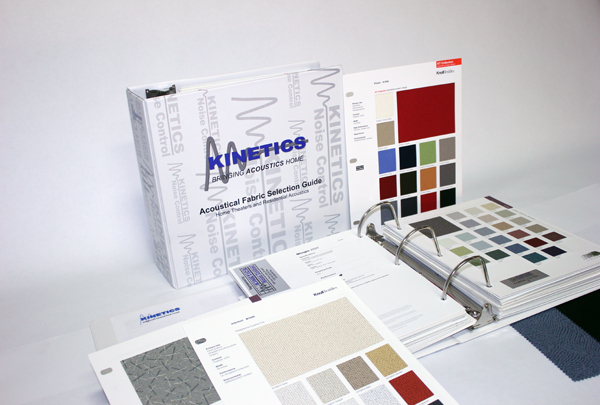 Combine exceptional acoustic performance with beautiful visual design
Because aesthetics can be as important as acoustical performance, use this Digital Fabric Binder to assist you with your design choices!
Once youíve identified fabric styles and colors, "memo" samples (typically 8" x 8" swatches) may be available for delivery to your door in 2-5 business days. Use the Acoustical Fabric Sample Request Form to receive fabric samples.
You Create
Once youíve selected your acoustical plan, explore the design possibilities of Kinetics products. Itís a snap to combine pre-tested fabrics and millwork to create the home theater or media room of your dreams.
Fabrics are available from six different panel-fabric manufacturers
Select from 50 different styles
Select from 500 unique fabrics and colors
Whether you need standard acoustical panels or a custom-designed solution, Kinetics offers the very best in acoustical panels with the widest selection of acoustical fabrics.
With proper planning and a nominal additional cost, Kinetics may also be able to manufacture panels with your own fabrics. Please contact us at home@kineticsnoise.com to explore this option further.
Be sure to visit the Room Acoustics page to learn more about the engineered performance of Kinetics acoustical panels and diffusers.
You Select
Select the Kinetics acoustical design and components that are right for you.

-->