Solutions for Room Acoustics
Specialized Acoustical Products
Unlike many home theater acoustics companies, Kinetics' acoustical panels are produced in our own manufacturing facility. Whether you need standard-sized, fabric-wrapped panels or one of our Designer Panels/Kits, you can be assured of receiving the highest quality at competitive prices.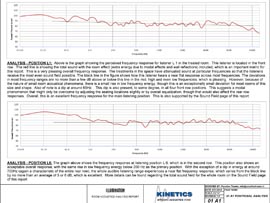 What Makes Your Home Theater a Total Experience?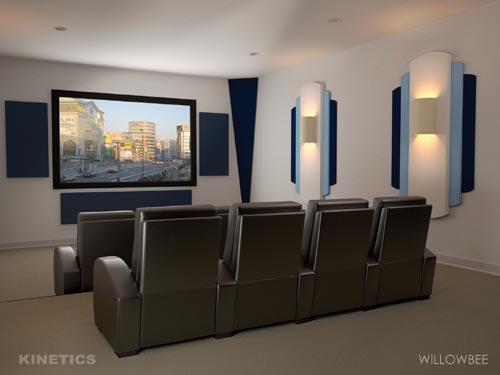 Is it a life-sized HD picture? A booming sound system? Plush seating? Mood lighting?
Ask most people and they'll mention these elements. But what about the room and its acoustics?
After all, your home theater started with the room. And it's here that you are about to install an expensive surround-sound system. Seasoned audiophiles, folks who have spent handsomely on audio gear over the years, will tell you the room is everything - that it's actually integral to the system. Their advice? Don't make room acoustics an afterthought.
Kinetics designers start by addressing every aspect of your room's acoustics:
Reflection
Diffusion
Absorption
Reverberation
Kinetics' acoustical solutions are engineered to control all aspects of your room's acoustics so your theater sounds outstanding no matter what you're watching.
Beautiful sounding home theaters are exciting when the lights are low. When acoustics are correct, your senses are overtaken by the cinematic experience.
How your room looks when the lights are on is just as important. With Kinetics, the visual benefits are equally exciting. Our panels, fabrics, woodwork and columns are designed to be a decorator's dream.
Combine beautiful visual design and exceptional acoustical performance, with CUSTOM HOME THEATER ACOUSTICS…by Kinetics.